Introduction
For mountain bikers, the electrification of cycling offers a world of custom settings and options that you can control from the palm of your hand. The Shimano E-TUBE PROJECT Cyclist app gives you ultimate control over your ride. From fine-tuning Shimano DEORE XT Di2's AUTO SHIFT functionality to optimizing the power delivered by the Shimano EP8 or EP6 motor, set it up your way using custom profiles that are easy to switch between.
STEPS e-bike motor customization
We sat down with Shimano product developers Pim Keunen and Rob Busser to explore the opportunities e-bike customization has to offer. "Shimano STEPS e-bike systems make riding a richer experience – for even more people," Keunen told us. "With the E-TUBE PROJECT Cyclist mobile application, you can customize the power delivery and battery management, to get even more out of your ride. Utilizing the app's two profile options, you can create distinct settings for different types of riding, either by using the pre-set assist, torque and start-assist settings, or by fine-tuning those metrics yourself."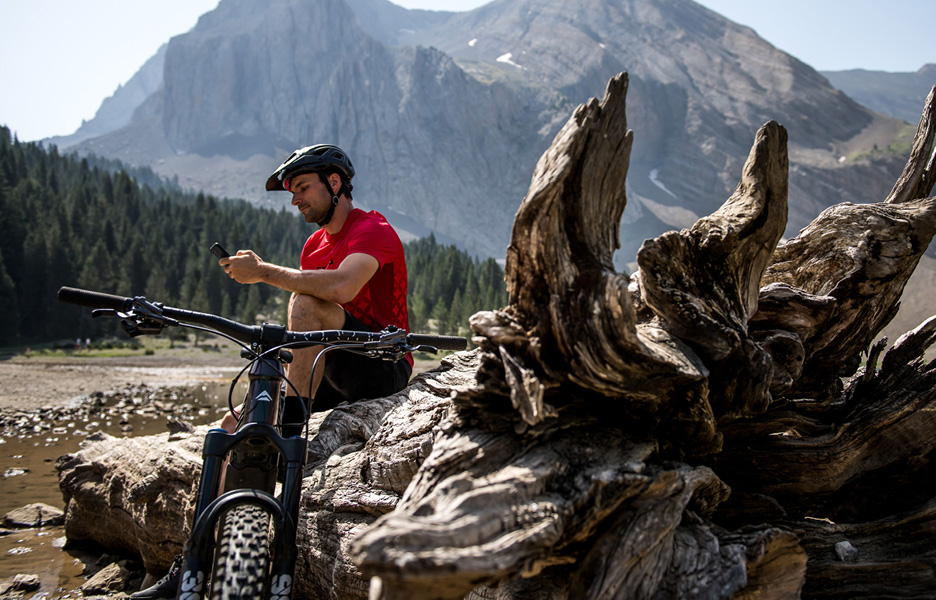 Range or power?
"You may want to set up personalized profiles for your e-MTB," Keunen continued, "in order to maximize your battery range or to power your ride to the fullest when taking on technical mountain bike climbs. By being able to set up and use two different profiles, both options are possible – even during the same ride. Take to the trails using Profile 1's conservative settings and switch to the more powerful settings of Profile 2 to maximize torque assistance provided by the STEPS motor."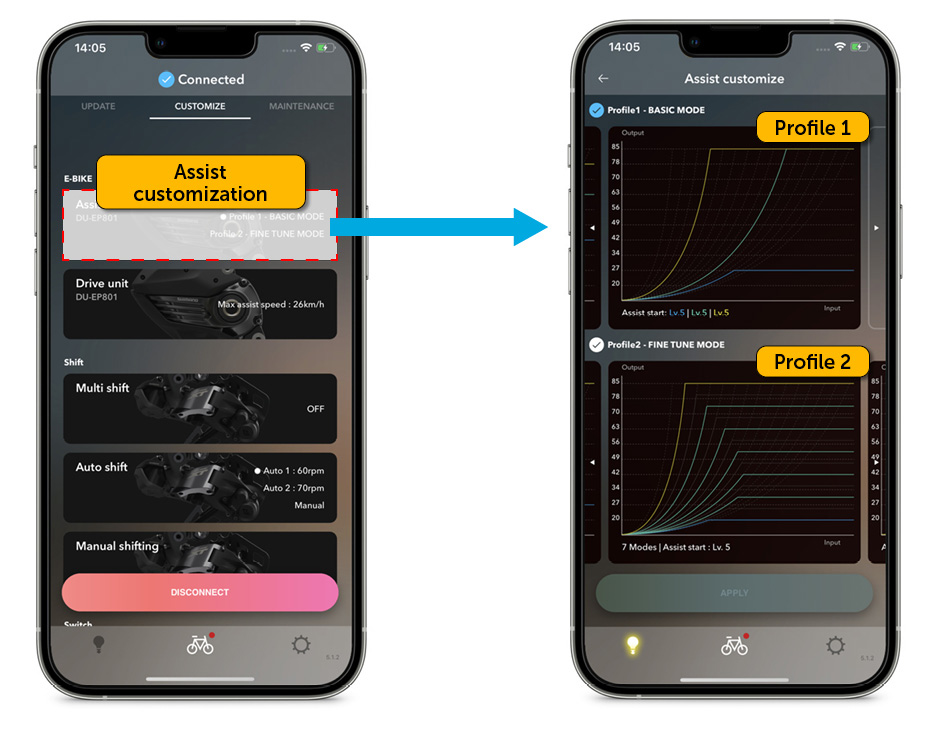 The perfect start
For e-MTB beginners and e-bike commuters, the ability to set the Assist Start you want to receive from the motor is exceptionally useful," Rob Busser added. "For a smooth acceleration from a standing start, you can tune the Assist Start to a lower setting, while for e-MTB riders, a faster acceleration will help you get going on those steep inclines."
BASIC vs FINE TUNE Mode
The E-TUBE PROJECT Cyclist app allows riders to select three different parameters within the three classic, pre-set modes of the BASIC Mode settings. This is ideal for riders who are new to e-bikes and not entirely familiar with the power of riding electric.
For those already comfortable with an e-bike and Shimano STEPS technology, FINE TUNE MODE provides even more personalization options. Riders can set up to 15 different assist characteristics and tweak the seven original assist support levels. In each of your two profiles, you can select the assist characteristics, including minimum and maximum torque. This way, you can prepare for, and adapt to, different challenges you might encounter in the same ride.
BASIC MODE
Riders can adjust three parameters within the 3 classical assist modes
Each levels can be customized by assist character (level), Max torque, and Assist start
FINE TUNE MODE
Riders can set up to 15 assist characters
Up to 7 assist support levels are originally set
Setting the upper and lower max torque settings determines the max torque automatically for each assist level
Assist start settings are shared among all assist levels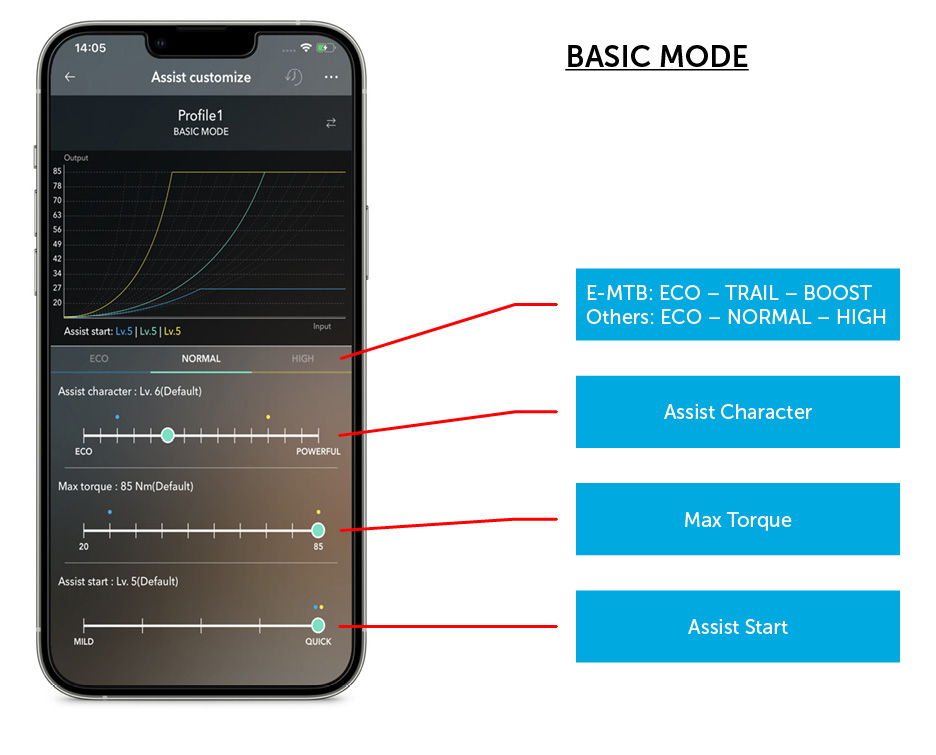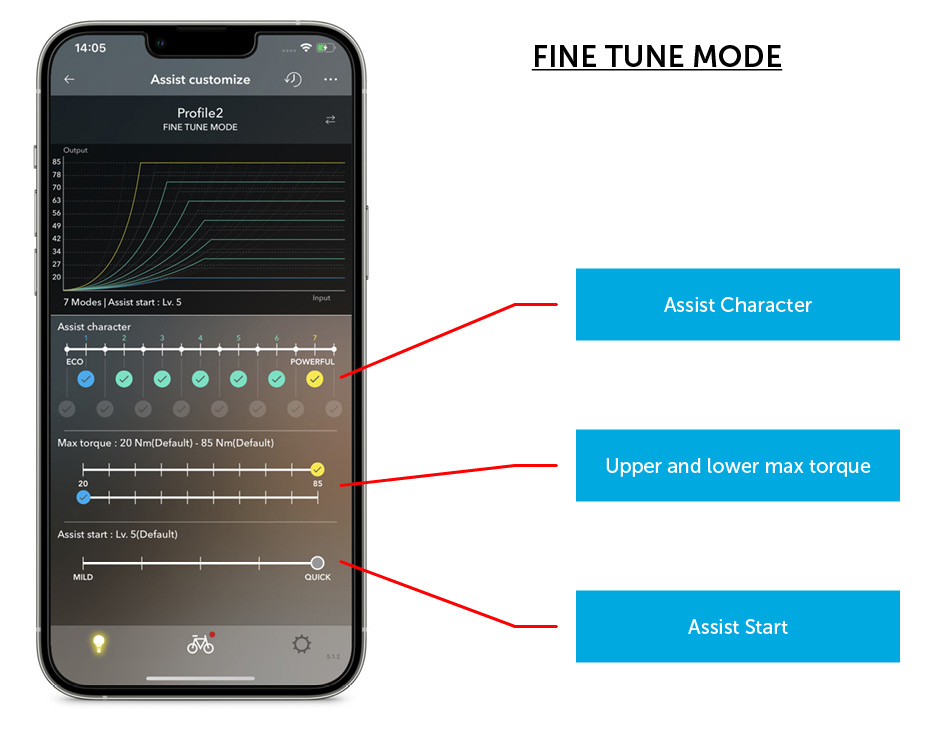 Shifting made smarter
"Another great feature that you can switch on and set up using the E-TUBE PROJECT Cyclist app is AUTO SHIFT," Keunen said. "You can let your e-bike do the shifting for you so you can focus on the road or trail ahead. By harnessing the data from the speed, cadence and torque sensors in the SHIMANO EP801 or EP6 motor, AUTO SHIFT can be set-up to communicate with DEORE XT Di2 and CUES Di2. By shifting at the optimal moment, the AUTO SHIFT function helps you maintain a steady cadence, prolong the lifespan of your components, and ensure you are in the right gear to restart after stopping. It makes riding electric easier, more accessible, and more fun."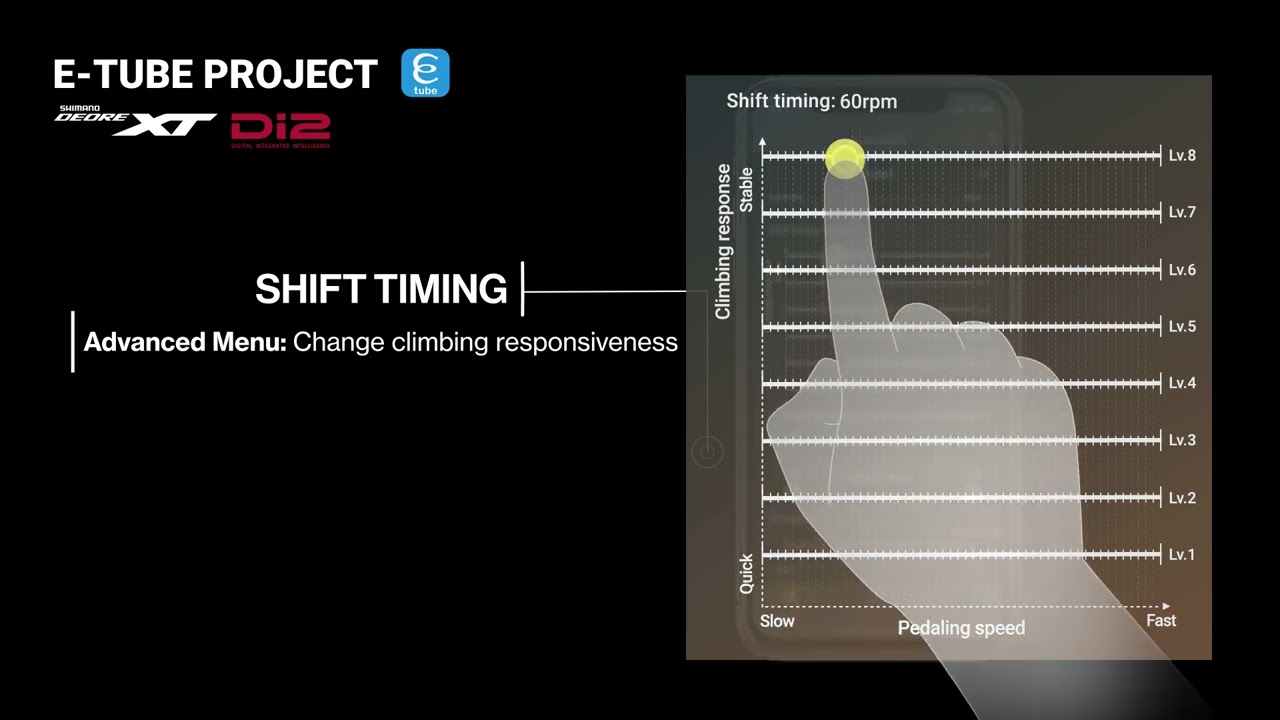 As with the assist, maximum torque, and start assist settings, AUTO SHIFT is customizable using two distinct profiles. This means you can create two customized sets of settings, further enhancing your ability to personalize your riding experience.
Riders can also easily customize the two Auto profiles with a few quick taps.
Select the Auto shift profile you would like to customize (Riders can also completely disable Automatic shifting by choosing the "Manual" profile), as shown on the second picture below.
In the Auto customization menu (on the third picture below), rider can turn Auto shifting when pedaling and AUTO FREE SHIFT on or off, set the riding scene, adjust the shift timing, and select the "Start gear" or "Start mode".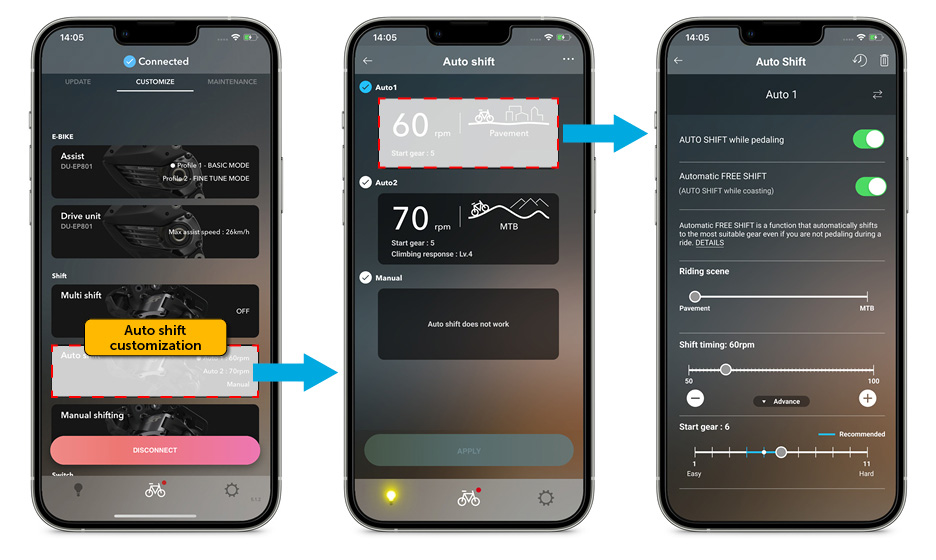 Besides toggling AUTO SHIFT, you can also activate Automatic FREE SHIFT to automatically shift into a lighter gear while coasting. This setting enables you to smoothly reach your desired speed from a standstill start or a slower speed without having to rely on a burst of torque through the drivetrain. Automatic FREE SHIFT occurs without the need to pedal, using the STEPS motor to align the chain with the desired gear – while you enjoy the ride.
Set the scene
Match the frequency of the AUTO SHIFT sensors with the surface you're tackling using the different Riding Scene options. For instance, e-MTB riders will need to shift more frequently to match the varied terrain they are traversing. While e-commuters will appreciate the pavement settings which are designed to cope with the speed adjustments one needs to make while riding on asphalt.
Perfect personalization
"Set the cadence at which you AUTO SHIFT using the Shift Timing and Advanced Shift Timing menus," Busser explained. "You can choose a cadence between 50 and 100 revolutions per minute to match your riding style. This setting is designed so you can maintain a smoother cadence, in turn enhancing the lifespan of your drivetrain's components.
"The Advanced Shift Timing menu can integrate the incline of the slope you're faced with into the AUTO SHIFT protocol so you can always maintain your ideal cadence. This function can be set to respond in a more quick or stable way to changes in cadence when climbing, negating the need for unnecessary shifts under pressure."
AUTO SHIFT's final menu is the Start Gear option. This enables you to select the gear in which you would like to accelerate from a standstill. When Automatic FREE SHIFT is enabled, AUTO SHIFT will shift into your chosen Start Gear while coasting to a stop.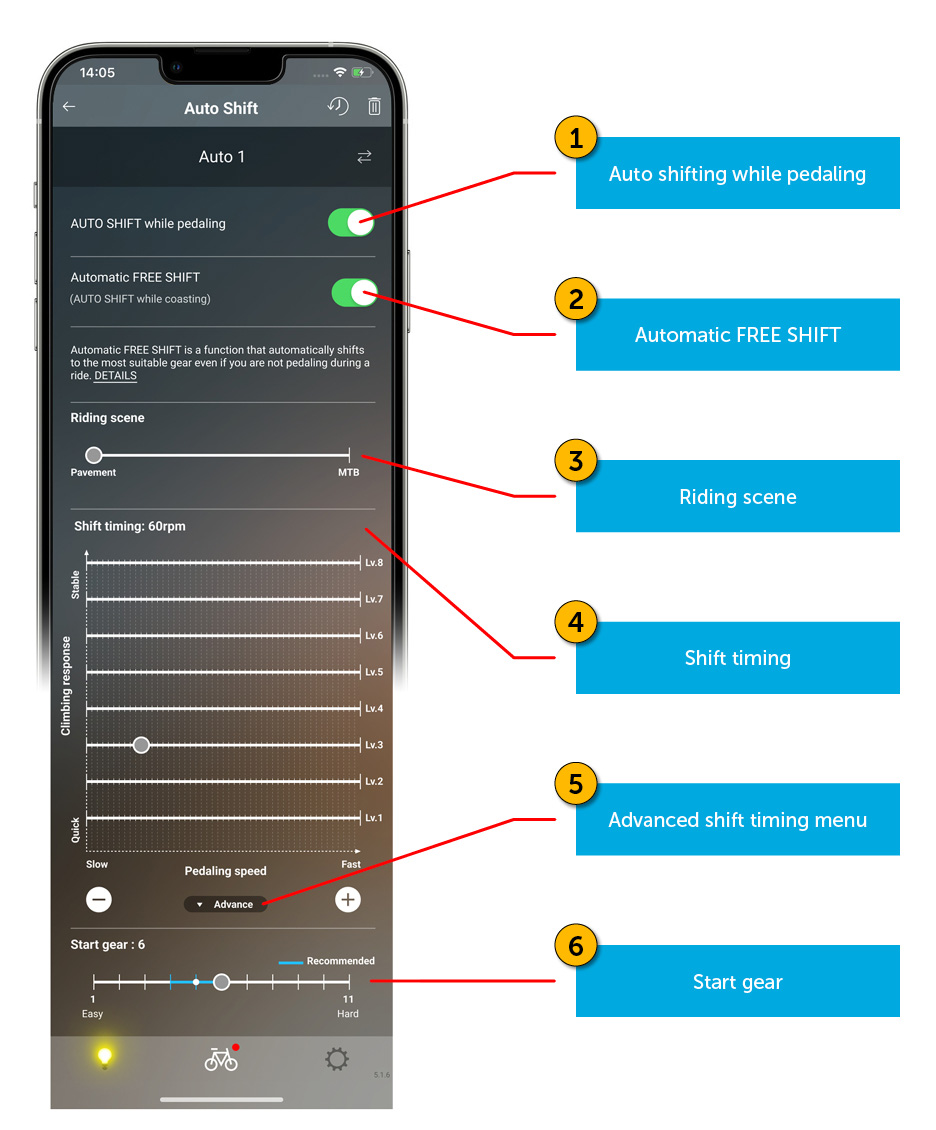 Auto shifting while pedaling - While pedaling, Auto shifting works (not applicable for bikes with RD-M8150-12)
Automatic FREE SHIFT - Auto shift also works while coasting (when you are not pedaling)
Riding scene - For MTB* the Auto Shift responds more rapidly to changes in the trail and good for active ride; For pavement, Auto Shift is tuned for urban traffic conditions and subtle road changes (* The "MTB" setting is currently only compatible with RD-M8150 (11/12)).
Shift timing - Set the target cadence for automatic shifting. To provide a better user experience, actual shift timing may vary depending on many other factors. With many factors, shift timing will be automatically and slightly adjusted from this value for better user experience.
Advanced shift timing menu - With advanced setting, user can have Auto Shift setting which responds the steepness of a slope.
Start gear - Gear automatically shift to the gear set here when bike comes to stop.
AUTO SHIFT Setting Examples
Auto 1: MTB to be relaxed on the fire roads
AUTO SHIFT while pedaling = ON
Automatic FREE SHIFT = ON
Shift timing = 70rpm
Climbing response = Level 1
AUTO SHIFT 1 as set here, lets AUTO SHIFT change gears while pedaling. It has the automatic FREE SHIFT functionality enabled to select the correct gear for your speed while coasting. This means you'll be in the right gear if you need to pedal to accelerate rapidly.
The Shift Timing is set to 70 revolutions per minute, which means that your desired cadence is 70rpm. Drop below that and you will AUTO SHIFT into a lighter gear, while an increase in your cadence will trigger the system to select a heavier gear in order for you to maintain your desired cadence at a higher speed.
The Climbing Response Level 1 setting in the Advanced Shift Timing settings indicates that AUTO SHIFT should take a swift approach. This will prompt you to shift on climbs, allowing you to maintain your desired cadence regardless of the incline of the slope ahead.
Auto 2: MTB to focus on technical trail
AUTO SHIFT while pedaling = OFF
Automatic FREE SHIFT = ON
Shift timing = 75rpm
AUTO SHIFT 2, as set here does not allow AUTO SHIFT to change gears while pedaling because of the increased torque put through the drivetrain while riding technical trails. Instead, AUTO SHIFT should shift while coasting – or you can shift manually.
However, the automatic FREE SHIFT functionality is enabled to select the correct gear for your speed while coasting. This makes sure you'll be in the right gear if you need to pedal to accelerate rapidly.
The Shift Timing is set to 75 revolutions per minute, which means that your desired cadence is 75rpm. Drop below that and you will be prompted to AUTO SHIFT into a lighter gear. Conversely, an increase in your cadence will trigger the system to prompt you to select a heavier gear.
Riders can also deactivate AUTO SHIFT in the E-TUBE PROJECT Cyclist app by selecting manual shift. You can always override the AUTO SHIFT function by using the shifters, as you usually would on a traditional bike.
Stay up to date
"Besides customizing the level of assistance and fine-tuning the AUTO SHIFT functionality," Rob Busser concluded, the Shimano E-TUBE PROJECT app also lets you wirelessly update your STEPS system's firmware. This will keep your e-bike running smoothly for years to come – using the latest battery-management, power-delivery and AUTO SHIFT settings."
To find out more and to download the E-TUBE PROJECT Cyclist app, visit the App Store or Google Play or go to bike.shimano.com/en-EU/e-tube/project.