This year's mountain bike racing season marks some of the biggest changes the sport has seen since its inception, in 1991. Re-named the Mountain Bike World Series, the Union Cycliste Internationale (UCI) will be handing over running the World Cup series to a new organization - Warner Brothers-Discovery - for the coming years.
As the World Cup grows, Shimano's commitment to mountain bike racing will grow with it. As main partner for all World Cup and World Championship racing categories, 2023 will see the biggest program for riders, teams and fans that Shimano has ever offered.
What World Cup races will Shimano be at this year?
We will be at every World Cup race, plus the World Championships, with our iconic Shimano Service truck stationed at the heart of the pits.
Since we entered the mountain bike world with our first XT groupset in 1982, racing has been in our blood; since its first races, more than 30 years, we have been a part of the World Cup circuit. We believe that World Cup racing is the highest expression of performance technology, which pushes us further in our search for perfection.
Our partnership with the UCI and its World Cup series means that the Shimano Service truck will be at every event in 2023, offering neutral support for racers, product experiences for consumers and our fleet of EP801-equipped test bikes to test and try.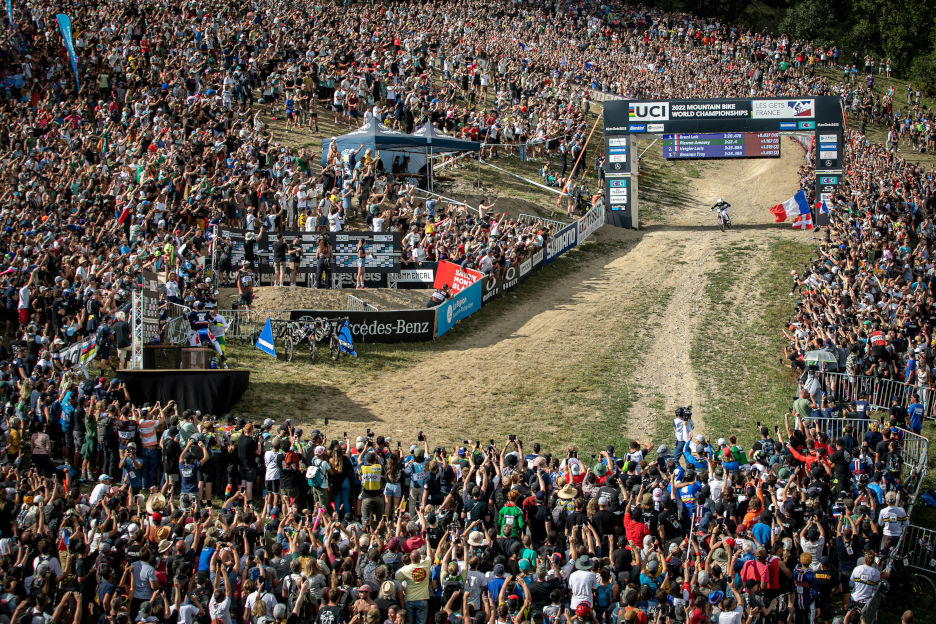 What are the changes to World Cup racing this year?
Up to now, World Cup weekends featured three disciplines: downhill (DHI); cross-country Olympic (XCO); and cross-country short track (XCC). From 2023 onwards, three exciting, new disciplines have been added to the program.
Enduro (EDR) and e-enduro (E-EDR) racing bring an entirely new style of racing to the World Cup. Offering a mid-point between XCO and DHI racing, EDR combines long loops out in nature with rally-style racing over a series of mostly downhill sections. Since 2013, the Enduro World Series (EWS) has brought together the world's best enduro racers; this new deal elevates an already incredibly popular style of racing to the World Cup program.
EDR was founded on the basis of amateur participation, and that will not be forgotten: for the first time ever there will be amateur categories for enduro racing offered at the Maydena, Derby, Finale Ligure, Val di Fassa, Loudenvielle and Les Portes du Soleil events.
Alongside the established World Cup disciplines of XCO and XCC, longer distance marathon cross-country (XCM) races will be added to the schedule. Most exciting of all, Marathon will offer amateur participation at Nove Mesto, Finale Ligure, Les Portes du Soleil and Snowshoe, USA.
Finally, Downhill (DHI) adds a semi-final round to the racing program, giving fans another chance to see their favorite racers between the tapes every weekend.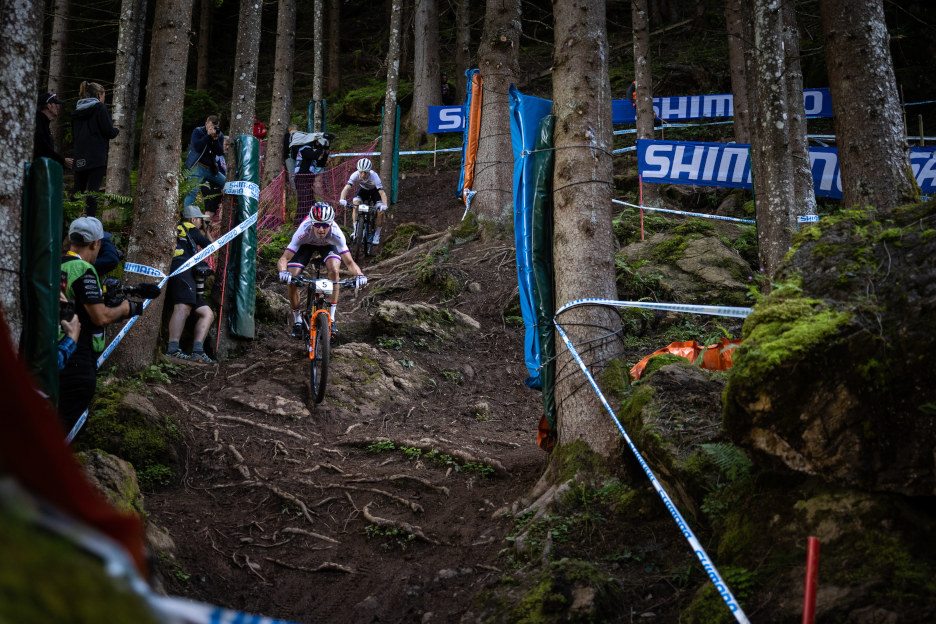 Where are the rounds going to be?
Date: 25 March - 2 April
Venue: Maydena and Derby, Tasmania
Racing opens in 2023 with back-to-back enduro races in the island paradise of Tasmania, Australia. Part of the EWS since 2017, this region quickly established itself as a riders' favorite and back-to-back rounds will deliver the fans twice the EDR action.
Date: 12-14 May
Venue: Nove Mesto, Czech Republic
The XC season opens with another fan and riders' favorite, with the technically demanding and ever-exciting Nove Mesto. For the first time, it will also host a Marathon World Cup alongside the XCO and Short-Track disciplines.
Date: 3-4 June
Venue: Finale Ligure, Italy
A European mountain bike mecca, and the traditional season-finale event for the European enduro circuit, this year's Finale Ligure event will mark the start of the World Cup's summer block of racing with EDR and E-EDR rounds. What many people may not know is that Finale has a long history of backcountry XC racing – a perfect venue for round two of the Marathon World Cup.
Date: 9-11 June
Venue: Lenzerheide, Switzerland
The season will reach full-speed in front of the passionate Swiss fans as "The Bike Kingdom" of Lenzerheide plays host to the opening round of DHI competition. With so many strong Swiss riders in XC racing, Lenzerheide always delivers red hot racing as the local heroes fight to excel in front of their home fans.
Date: 15-18 June
Venue: Leogang, Austria
A classic World Cup downhill and XC venue, for the very first time, Leogang will also host EDR and E-EDR races with the stunning Austrian Alps as their backdrop.
Date: 24-25 June
Venue: Val di Fassa, Italy
Under the watchful gaze of the stunning Dolomite mountains, this high-altitude playground offers one of the toughest tests on the World EDR circuit.
Date: 30 June - 2 July
Venue: Val di Sole, Italy
One of the most famous, and feared, venues on the downhill circuit, the legendary Black Snake will once more test the world's best.
Date: 25-27 August
Venue: Pal Arinsal, Andorra
The highest venue in World Cup racing, Andorra is always a popular stop for the circuit. For 2023 the XC track will be overhauled and extended for even more exciting racing. The unforgiving high desert of the upper slopes means that downhill racers will hit some of the highest speeds of the season, which always makes for intense racing.
Date: 1-3 September
Venue: Loudenvielle, France
The DHI circuit stays the same in the Pyrenees but hops the border to France where this classic EWS venue will play host to the downhill World Cup for the first time alongside EDR racing.
Date: 7-17 September
Venue: Les Gets/Chatel/Morzine/France
The jewel in the crown of the 2023 World Cup season. For the first time, all six disciplines will come together for a week-long festival of mountain bike racing on the world-renowned trails of the Portes du Soleil. It will also provide the climax to both the EDR and E-EDR seasons, with a healthy serving of amateur racing alongside.
Date: 28 September - 1 October
Venue: Snowshoe, USA
With some of the loudest fans anywhere in cycling, this year's Snowshoe event will be adding the final of the Marathon World Cup to its downhill schedule.
Date: 6-8 October
Venue: Mont-Sainte-Anne, Canada
Where else could the season end other than the most legendary of all World Cup venues? XC and downhill racers will lay it all on the line on these classic tracks to secure the coveted World Cup overall titles.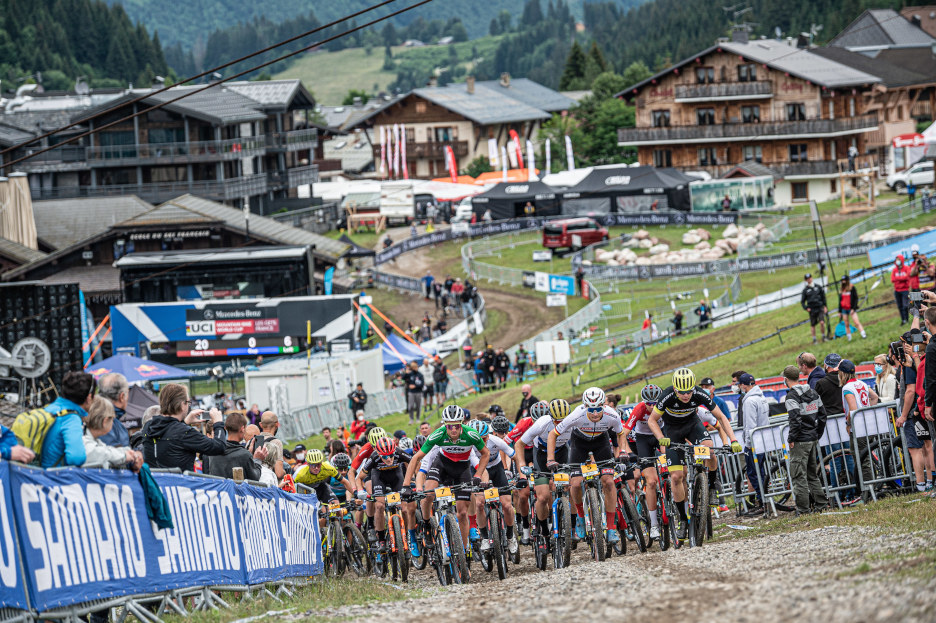 What teams will Shimano support?
As exciting as these big changes to the World Cup are for the fans of the sport, we understand that for athletes these changes can be challenging. At Shimano, our focus for 2023 is offering stability to our racing teams, and we are excited to extend our support to six top tier racing program. Each of these teams have proven themselves capable of performing at the highest level and we are eager to support them with multi-year deals, giving them the support to let them focus on what they do best: racing.
We are also proud to announce a new collaboration with Orbea, as they re-launch the Orbea Factory Team, with new riders and an expanded race calendar taking in the most demanding races worldwide. Their goal is simple: to compete at the highest level on the global XC circuit and we are excited to come along for the ride.
Alongside them will be their new OOLAB E-EDR team, charged with the goal of developing new technologies for their future e-bikes. They will be racing with our updated EP801 motors paired with XT Di2 groupsets, featuring our FREE SHIFT and AUTO SHIFT technologies.
Team: Santa Cruz Syndicate
Discipline: DHI
As the original mountain bike super team, we have been by the side of Santa Cruz Syndicate for over a decade and are excited to keep the winning formula going.
Team: Cannondale Factory Racing
Discipline: XCO, XCC
One of the longest running XC programs on the circuit, Cannondale Factory Racing head into the 2023 season with a strong lineup of emerging talent, high ambitions and an XCC World Championship to defend.
Team: FMD Canyon CLLCTV
Discipline: DHI
Supporting athletes is not just about the good times. FMD's lead rider, Tahnée Seagrave struggled with the effects of concussion through 2022, but we want to be there for our athletes through the ups-and-downs, as well as the victories. Shimano is proud to renew our partnership with FMD Canyon CLLCTV.
Team: MS Mondraker
Discipline: DHI
The MS Mondraker team, led by veteran Brook Macdonald, brings new talent to stake their claim at the downhill World Cups.
Team: GT Factory Racing
Discipline: DHI, EDR
Fielding teams for both the DHI and EDR, GT will be looking to capitalize on the growth of women's racing with a strong women's lineup, while Wyn Masters will continue to highlight his racing and related adventures through his fan-favorite Wyn TV YouTube series.
Team: Scott DH Factory Team
Discipline: DHI
After a couple of tough years with injury, we are rooting for Marine Cabirou to recapture her World Cup-winning ways in 2023.
Photo Credit: UCI/Michal Cerveny
For updates through the season, follow @shimanomtb on Instagram or Shimano-MTB on Facebook.