Looking for the Kurt Sorge jersey contest? Scroll down to the bottom of the page to enter!
What is it about Rampage that's so captivating? Is it the risk? The suspense? The spectacle? Well, all of the above, of course, but we think there's also something more to it. Rampage is just so unpredictable. Anything could happen. That's why they call it "freeride." As new lines build on the steep Utah cliffs, so does our anticipation of what those lines will deliver. And we won't know until the last rider crosses the finish line and throws his hands up in triumph and relief.
"If you're a fan of mountain biking, it's something you have to see at least once in your life," says Todd Barber, who has been organizing Rampage since the very first event in 2001. "It's pretty mind-bending."
Photography by Christian Pondella / Red Bull Content Pool
This year, the event is moving back to a site where it hasn't been held since 2013, making line-building even more important. "It's fairly grown over, and it'll be an empty canvas for most people," says Barber. The building process is intense. Every rider arrives with their own dig team and tools, but for years, Barber has been providing one crucial resource: Water. "My build crew has a plan to use a local water spring that is just runoff that we grab and put into a catchment system and pump up to the top of the start." That's why it's possible for giant, manicured features to emerge from the dry, rocky landscape.
It's quite an undertaking, and Barber is going full throttle up to and including the day of the big show. "Clearing courses, making sure there are no photographers in the way or other hazards, watching the weather, and trying to work with TV and keep the flow going for the event," he explains about his focus out there. "I wake up in the morning like I'm on a boat going towards Normandy, rockets and mortars going over my head!"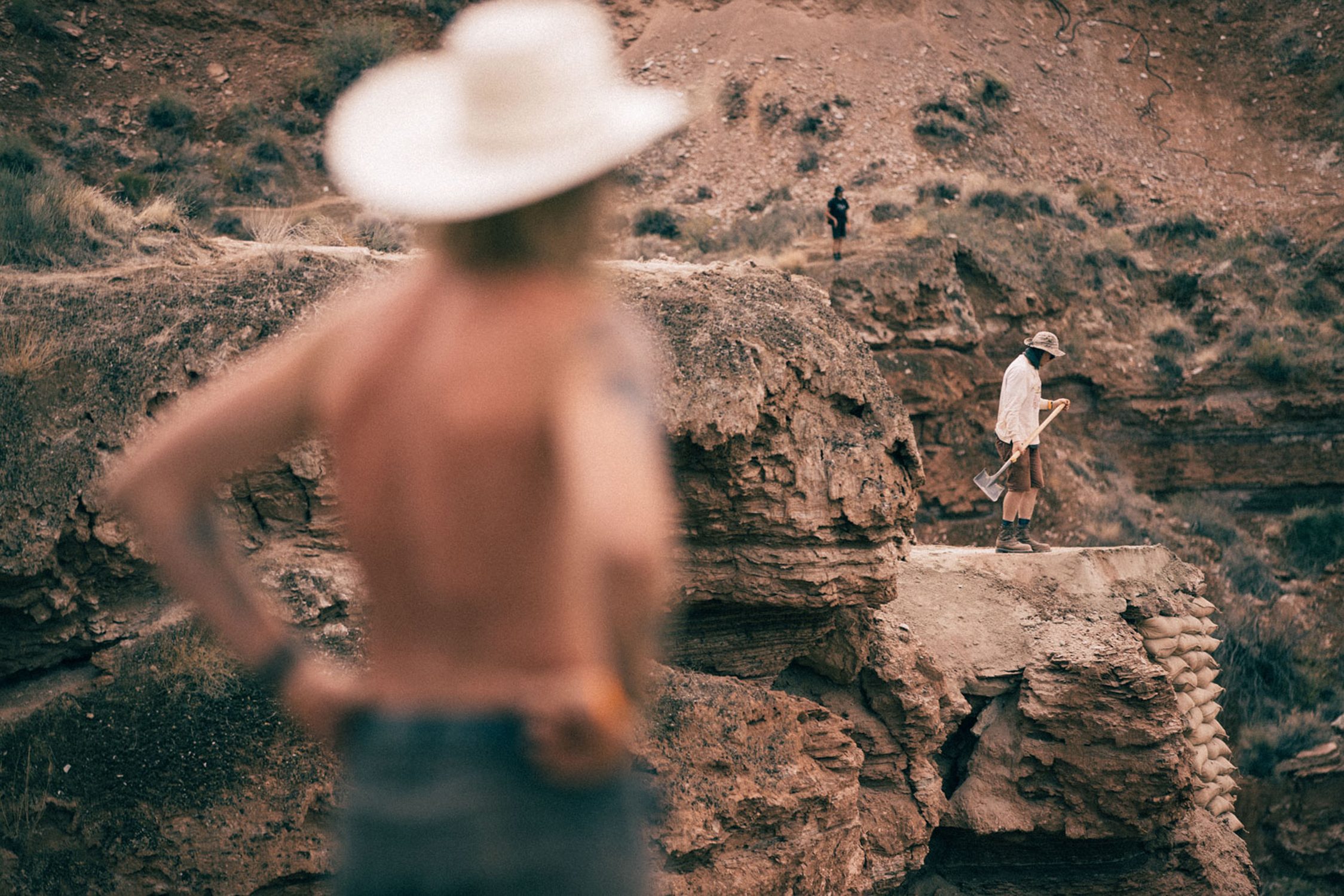 Photography by Ale Di Lullo
Talking to Barber, it's clear his main concern is for the athletes. But it's also clear he's got the utmost faith in them. "It's less stressful than watching it on TV," he says. "You're watching it build over a 10-day period. It's not like people just showed up and are sending themselves down these crazy lines. By the time they get to the event, they're fairly focused and they know what they have to do."
Shimano is proud to be supporting eight of those athletes at this year's Rampage. Maybe we're a little biased, but these are the guys we're most excited to watch throw down in the desert. Each brings something different to the table, whether it's their history, their ambitions, their attitude, or their style.
Photography by Christian Pondella / Red Bull Content Pool
Jaxson Riddle
The first name in "style" is definitely Jaxson Riddle. Last year, Rampage judges gave Riddle the "Best Style" award, and he was a crowd favorite. As a long-time local of southwest Utah, Riddle is one of only a few Rampage invitees with a home-field advantage. Riddle has a talent for flowing organically with whatever his local landscape has to offer, and he's not the sort of rider solely concerned with checking the judges' boxes.
"We're given the criteria that the judges use," Riddle tells us. "But for me personally, I'm just going there to ride. To do the tricks that I think are cool, regardless of where I think I'll finish."
Photography by Paris Gore (Left) & Bartek Wolinski (Right) / Red Bull Content Pool
Many fans thought he deserved to finish higher than the ninth place he took home last year, but that "Best Style" award is proof that Riddle is doing exactly what he wants out there. And it's not the only award his team saw last year. "Best Digger" was awarded to Riddle's dig crew of Utah local, Joel Shockley and California ringer, Samuel Mercado. "I ride with Joel all the time, and I talk to Sammy every week," says Riddle. "Sammy's really dialed as far as building stuff up and knowing how to go about it, and Joel is willing to put in the work. They just crush it together." All three are back this year, and we can't wait to see what they come up with.
Photography by Christian Pondella / Red Bull Content Pool
Thomas Genon
Also back this year is Thomas Genon, but he's about as far from "local" as they get. Hailing from Belgium, Genon has been at every Rampage since 2013. And though he already spends much of the year traveling, that's no easy feat. "We need to come early to ride a little bit before and adapt to the time zone," explained Genon. "And you need to bring your diggers, rent a car and get all your tools and stuff you need out there. But we are all equal when it's time to build your line and ride it." And Genon takes a decidedly slopestyle-focused approach to that part. His deep trophy case is proof of his technical, trick-heavy style, including a win at Red Bull Joyride when he was just 19. "I think having a slopestyle background helps me because I have a lot of experience spinning drops and doing full runs that are consistent," Genon says. "I try to use this experience and skill and adapt it to the terrain of Utah."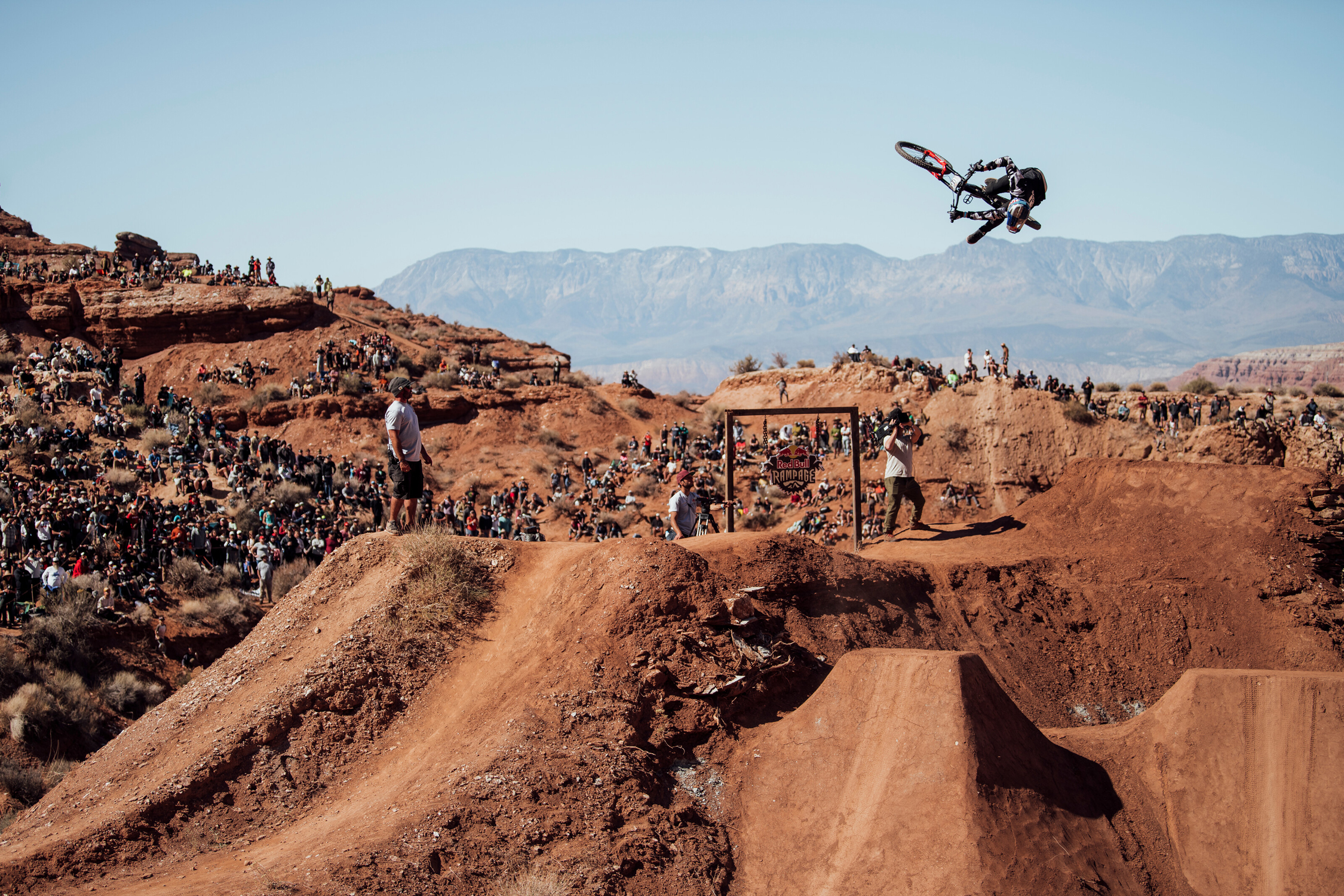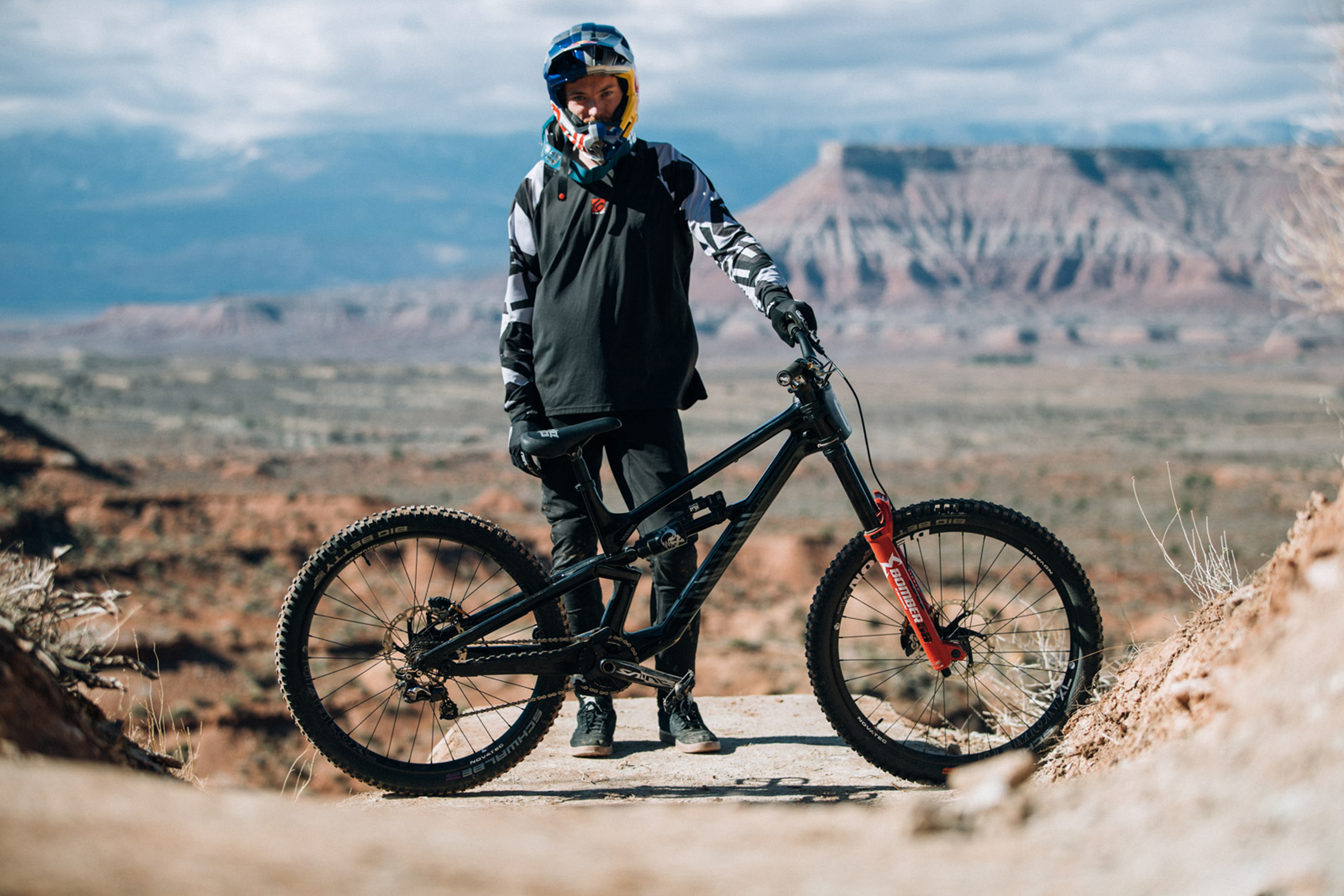 Photography by Bartek Wolinski (Left) / Red Bull Content Pool & Ale Di Lullo (Right)
Photography by Christian Pondella / Red Bull Content Pool
Tyler McCaul
Tyler McCaul loves that Utah terrain so much that he moved there in 2019. But soon after, an ankle injury sidelined him for nearly a year and a half. His road to recovery took him down some unexpected paths, some of which he found himself traveling on an e-bike. McCaul made an impressive comeback at last year's Rampage with a fifth-place finish, and he's now finally able to enjoy all his backyard has to offer. "Virgin is my favorite place on Earth to ride," McCaul says. "But in the summer months, it gets so hot down here that it forces me to explore other places, and I've been finding some cool spots up in the Alpine areas. It's nice to be able to escape for a mid-day trail ride up high and then come back down to the desert for an evening session."
Photography by Paris Gore (Left) & Bartek Wolinski (Right) / Red Bull Content Pool
It's easy to forget that the superhumans who compete at Rampage are also something most of us would find a little more relatable: mountain bikers. "One of my favorite things about MTB is that there are so many different forms of it, and I feel like they all complement each other," McCaul tells us. "I've noticed that when I switch it up and go for a trail ride or go dirt jumping, I actually ride better once I get back on my DH bike."
Photography by Paris Gore / Red Bull Content Pool
DJ Brandt
Another Utah local is DJ Brandt, who recently relocated from Colorado to Cedar City, less than an hour northeast of the Rampage site. And it seems like he's been making the most of it out there, dropping regular short videos and slinging some pretty creative bangers on Instagram. "The kind of stuff I like to cook up for Instagram or videos is either an odd trick, or an odd feature, or an odd trick off an odd feature," says Brandt. "I enjoy the creativity and the freedom of filming."
Photography by Paris Gore (Left) & Christian Pondella (Right) / Red Bull Content Pool
Something we don't see in the polished edits that make it to the small screen, is that those technical feats take a long time to perfect. "That stuff could take three times, or it could take over 100." So, Brandt takes a different approach when lining up a run at Rampage. "At a contest, I'm thinking about doing stuff that I'm good at on features I'm good at tricking. I want to make it to the bottom with a solid pull and be consistent." But Brandt still dreams of raising the bar for creativity at the big show. "I want to go off something backwards at Rampage. I want to half-cab a drop. And that's one that can be consistent enough." He adds that it would take some specific conditions and slower speeds, but if anyone can do it, he can.
Photography by Christian Pondella / Red Bull Content Pool
Kurt Sorge
This will be Kurt Sorge's tenth Red Bull Rampage, his first being way back in 2008. Since then, he has stood on the podium five times. Three of those times, he stood at the top of the podium. It's hard to believe one rider could dominate for so long, especially when you consider how much Rampage has evolved in the 14 years Sorge has been competing. "It's been amazing to see the riders' abilities progress over the years," he tells us. "The most significant change since the beginning of Rampage, I would say, is the riders' eye for terrain and features."
Photography by Long Nguyen (Left) & Paris Gore (Right) / Red Bull Content Pool
It takes a lot of creativity to lift those features out of the shapeless Utah desert. These riders are artists, after all. And Sorge has quite the sculpture collection in his backyard near Nelson, British Columbia. "It's been a dream of mine to have since I was a kid," he says of the training grounds he built on his 10 acres of stylish slope. Like many Rampage invitees, having his own jumps helps Sorge maintain his bag of tricks. But being in western Canada, he's also got access to plenty of raw, natural terrain. "BC has amazing trails all over the province, many of them very technical. This keeps your skills sharp," Sorge explains. "Also, in the summer, we are able to ride in the alpine when the snow melts and this terrain is great for getting comfortable in Utah." Whatever he's doing, it's working. As always, Sorge will be one to watch this year.
Photography by Christian Pondella / Red Bull Content Pool
Tom Van Steenbergen
Tom Van Steenbergen took home Best Trick at last year's Rampage with a massive, flawless front-flip drop. But then, immediately after, he overshot a backflip and ended up with more injuries than we have time to list here. That's why it's so exciting to see his name on the rider list this year. For a while, we didn't know when we'd see him back on the stage. And for a while, he didn't either. "It was at the 8-month mark and it started getting hot out where I live, and the heat really helped with the pain," remembers Van Steenbergen. "I immediately texted [Rampage organizer], Todd Barber to see if it was possible, and I think the next day, I booked an Airbnb." That's not to say he knew he'd be competing. Just that it was a possibility. But things kept improving. "I felt super rusty for the first couple months, and had no confidence in my body," Van Steenbergen tells us. "But I would just go back to the gym, knowing exactly what to work on after every session. The stronger I got, the more confident I got." He made a point that he didn't want to rush his recovery, but when we spoke, he said he didn't feel rushed. He felt ready.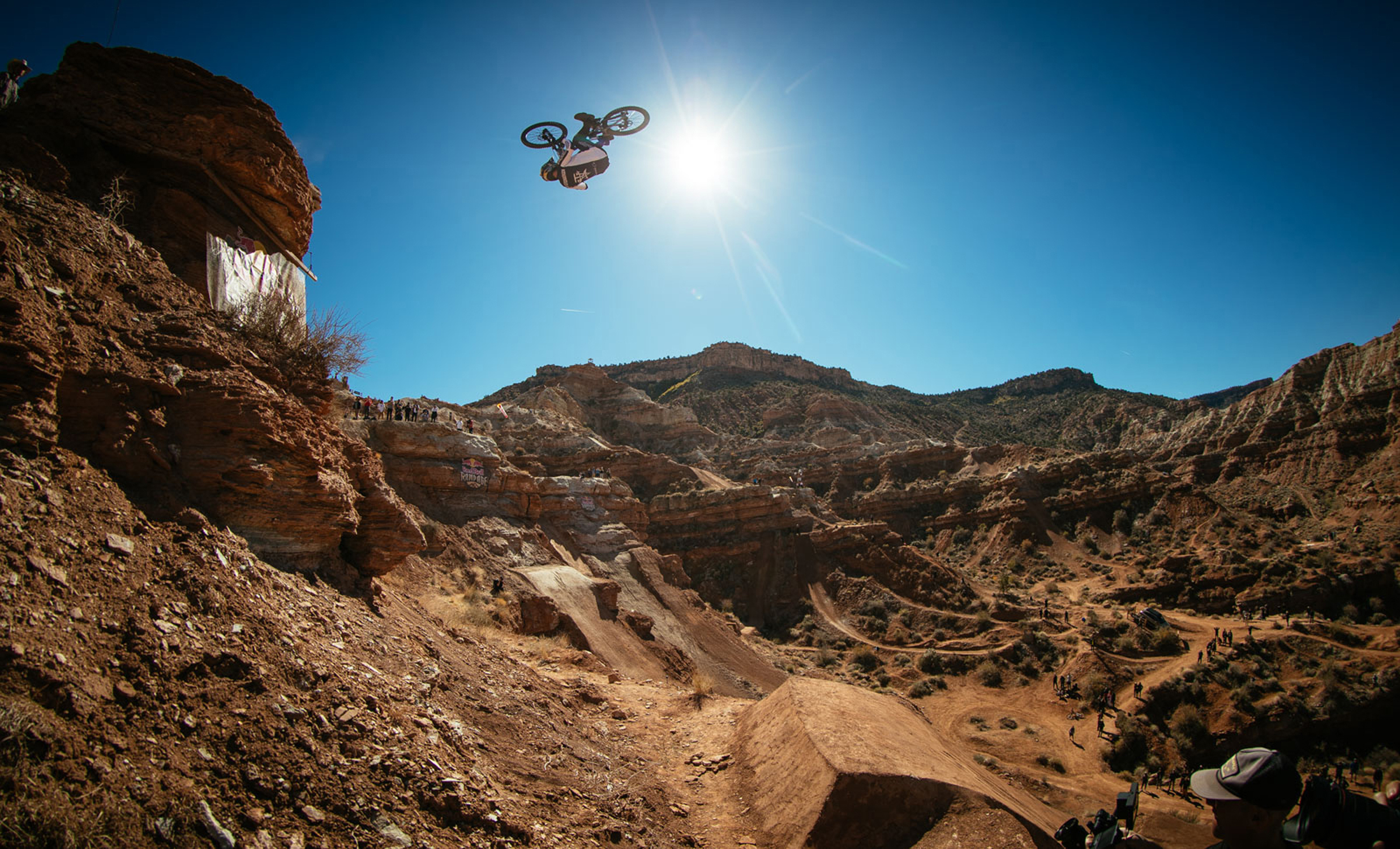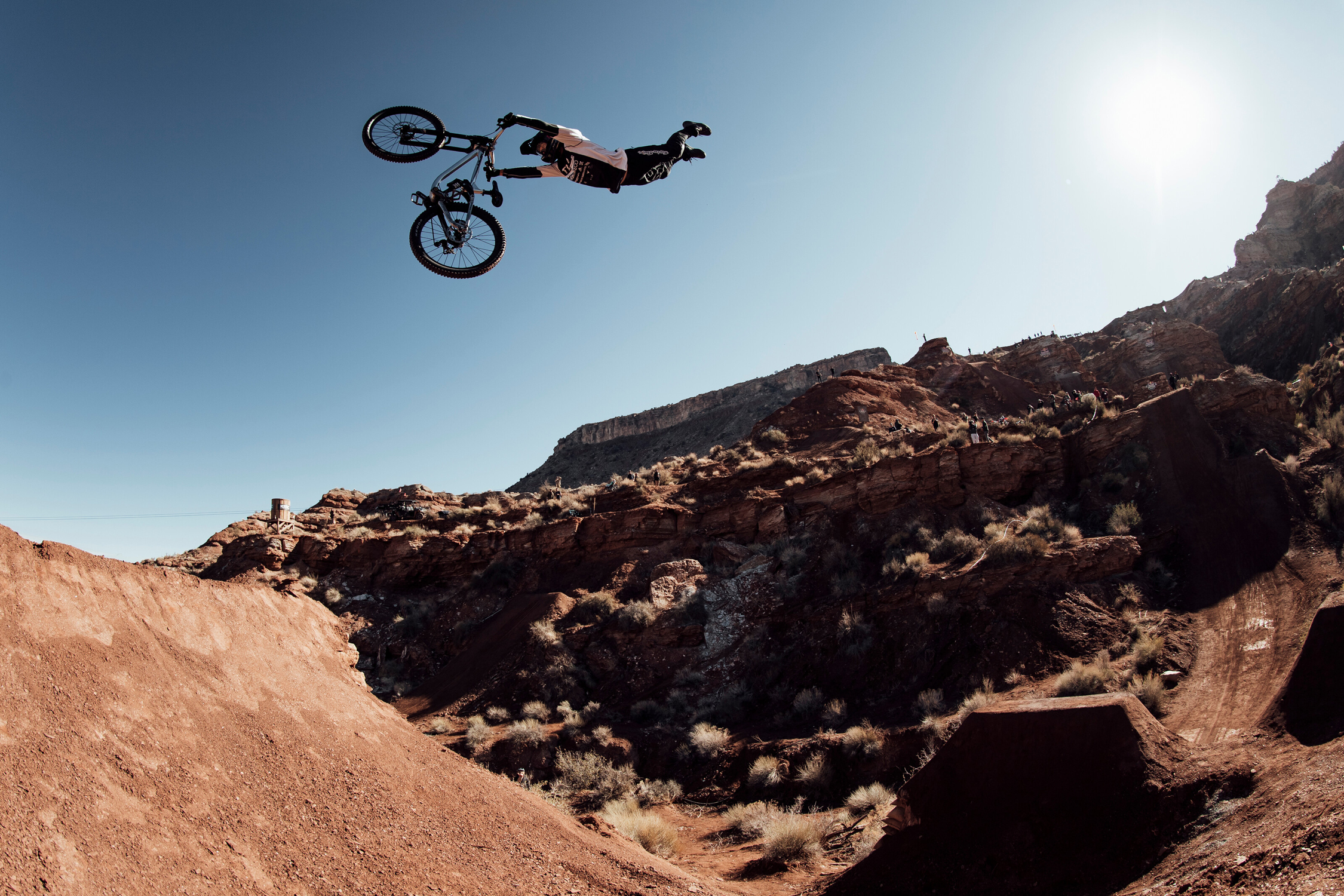 Photography by Ale Di Lullo (Left) & Bartek Wolinski / Red Bull Content Pool
And all of this comes after a pretty busy year for Van Steenbergen. He got married and bought some land in British Columbia. Just like the veritable private bike park he previously set up at his parents' house, his new property is crisscrossed with features. Features that he credits for much of the progress he's made up to this point. "It's a 10-acre property that's on a nice slope," he boasts. "There's no house on it, just jumps so far." Glad you have your priorities straight, Tom.
Photography by Bartek Wolinski / Red Bull Content Pool
Carson Storch
A true master of slopestyle, Carson Storch placed first in Proving Grounds in 2021. And in 2017, he co-founded Black Sage, his own stop on the Fest slopestyle competition series. But he also has a taste for raw dirt, so we asked him about finding a balance between flow and freeride at Rampage. "It depends on how the mountain speaks to me," Storch says. "My experience filming big mountain stuff and being a part of some major film projects have motivated me to showcase that as much as I can."
Photography by Ale Di Lullo (Left) & Bartek Wolinski (Right) / Red Bull Content Pool
That's part of what's so captivating about Rampage. It's a platform for self-expression like nothing else in the sport. "Rampage is every athlete's way to represent how they see freeride mountain biking." Storch happens to see freeride from a unique perspective, one based in central Oregon, where he was born and raised. While we've seen plenty of riders relocate to southwest Utah to be closer to Rampage's unique terrain, Storch is finding just what he needs in the growing local scene in and around Bend. "Bend is definitely different, but it's centered within a lot of good riding in the state," Storch tells us. "I have access to the dirt park where Proving Grounds and Black Sage are held. And there are some zones I ride in eastern Oregon in the desert terrain that mimic the Utah terrain a little bit." But he says training for Rampage isn't really about having your tires in the right kind of dirt. It's about riding. "The best way to be prepared for Rampage is just to have as much time on your bike as possible."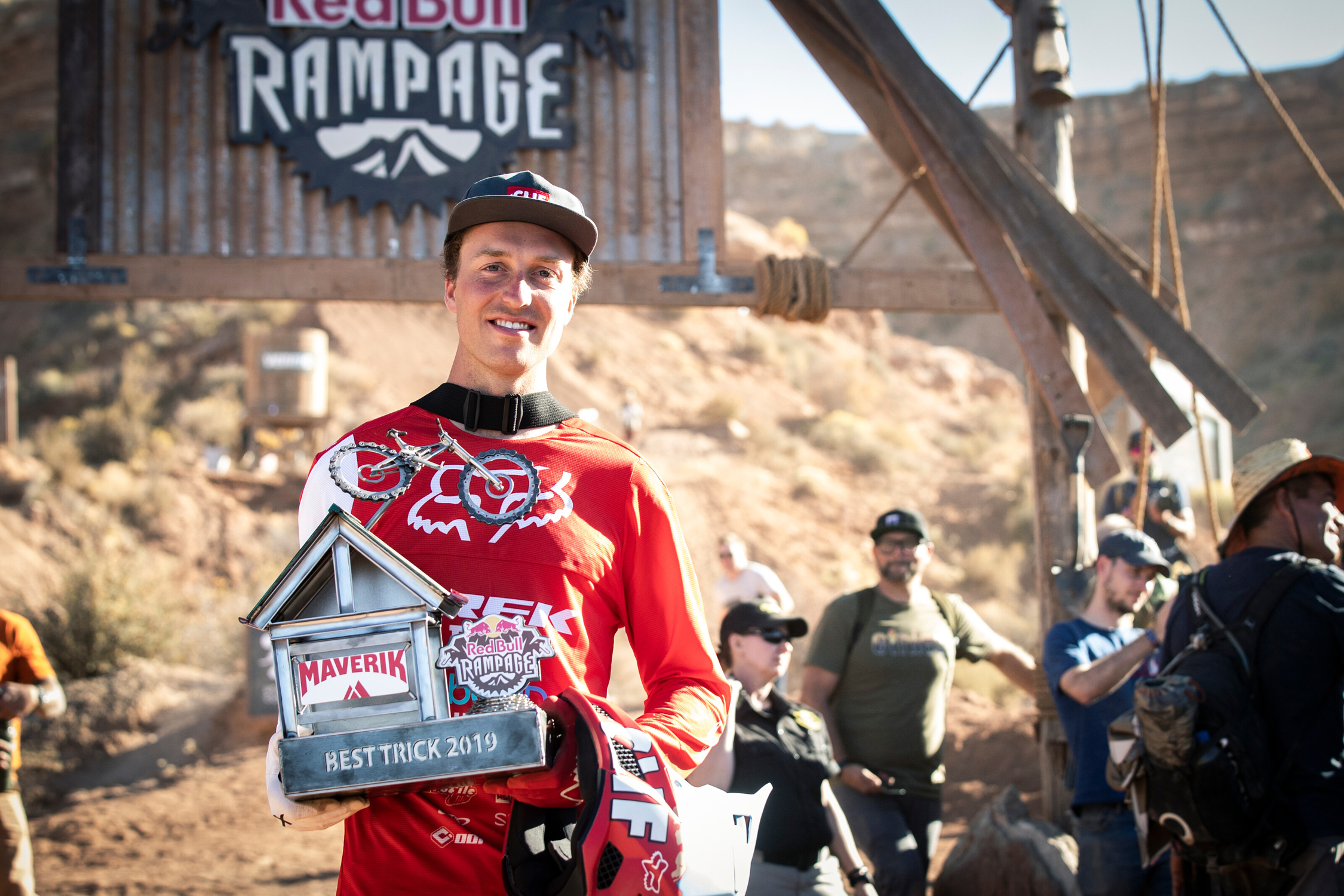 Photography by Long Nguyen / Red Bull Content Pool
Brett Rheeder
If you know just a little about Rampage, you know that Brett Rheeder is an absolute machine on the course. But if you know a lot about Rampage, you know he stepped away from competition a couple years ago, and that part about him being a "machine" had a lot to do with it.
"When you're doing slopestyle for so long, you're just practicing muscle memory," Rheeder explains, "And at the same time, you're trying to learn new tricks, so you're trying to add muscle memory. You feel like you're a human robot programmed to do tricks that will win contests." Rheeder is remarkably candid about his reasons for stepping out of the spotlight. He's also just as candid about what's bringing him back, and it has nothing to do with winning. "This year, I want to have fun," he says. "Have a good time with my dig crew, do some tricks, and we'll see what that gets us."
Photography by Garth Milan / Red Bull Content Pool
So, this past month, Rheeder went back to Utah, preparing to visualize, dig, and practice. But it didn't go as planned. "It was too frickin hot! Straight up 110, 113 degrees. And there was a huge rainfall that came through, and we couldn't even ride," he said. "So, we decided at that point to go to Proving Grounds."
Rheeder did just one run at Proving Grounds, opting not to take his second run. "When I got to the bottom, I'm like, 'I'm done.' I don't care if someone bumps me. I don't care if I'm on the podium. So, I took my pads off and enjoyed the show." Spoiler alert: Rheeder got first place at Proving Grounds. Now, he'll be taking his newfound clarity to Utah as he prepares for Rampage. "I would way rather watch this version of me—whipping big jumps and just big floaty tables—than just dropping in and doing a contest run." We can't wait to see it.