A peek into VIDA's two-day women's bike clinic at Snowmass Bike Park.
Ashley from Shimano's Digital Marketing team traveled to Aspen, Colorado, to participate in VIDA's most recent mountain bike clinic.
VIDA is more than just a clinic; they're a community. The VIDA MTB Series focuses on making you a better rider through increased confidence and an improved understanding of the relationship between you and your bike.
I had the opportunity to join the VIDA Community of riders and coaches for their Flagship two-day clinic at Snowmass Bike Park in Aspen, Colorado, a world-class mountain biking destination.
VIDA kicked off the action-packed weekend with a Happy Hour at the Ranger Station Friday night. The next morning was the clinic check-in, where riders were greeted with a warm welcome, swag bag, and instructions for the next step; to create a nameplate that reflects each person's unique personality.
After creating a nameplate and meeting some friendly faces, VIDA Leader, Rachel Gottfried had all 65 of us in attendance circle up to shake off any pre-ride jitters with a dance party, followed by introductions, an outline of activities, and group breakdowns.
With 65 women of all different skill levels in attendance, the group breakdown was key. Before attending the event, an in-depth survey was issued to understand participants' skill level, abilities, equipment, and most importantly goals for the weekend. With several years of MTB experience and a motorsports background, my goal for the two-day clinic was to become better at drops and jumping. This placed me in the Intermediate/Advanced group where I was joined by five other ladies with like-minded ambitions and of course our awesome coaches for the weekend, Liz and Kari.
Before taking the group down the legendary trails at Snowmass Bike Park, Liz and Kari spent most of Saturday morning getting to know the group and our abilities. They demonstrated and instructed our group on body position and bike functions, and how to make them work in unity.
With confidence steadily building, we took an hour lunch break complete with a Shimano Tech Talk by STEPS Demo Coordinator Robert Plumb, who spoke to the group about bike maintenance basics and questions.
After lunch, a gondola ride and chair lift, we were greeted with stunning views of the iconic Maroon Bells. Full from lunch, fresh with confidence and spectacular views, we set out on the fast and flowy trail, French Press, where the smooth dirt, steep banks, and dynamic rollers of this blue trail allowed us to take what we learned and apply it with friendly reminders from our coaches.
When we reached Dust Bunny, an intermediate technical trail that weaves its way through evergreen groves and subalpine meadows, Liz and Kari took time to session and demonstrate what they taught us and how to apply this knowledge to trail features.
As Day One came to a close, we reflected on our achievements and set our intentions for the following day!
Day Two began with a Morning Coffee Hour hosted by Shimano. After a cup of coffee and the addition of two riders, we discussed what each one of us wanted to get out of Day Two and how we were going to achieve our goal. After a brief refresher on bike and body function and position, the lifts were open, and we headed to session our first section. We practiced rolling in at first until we were confident and comfortable with clearing the feature with both wheels.
Before we knew it, it was lunch time which included a Tech Talk with Shimano. After refueling, we headed back up the mountain to Lemon, an intermediate freeride trail with a number of interesting and dynamic terrain elements like wooden rollers, small drops, rock gardens, and even a wall ride. This trail allowed us to use the skills we learned in a safe and controlled environment and ultimately gave us the confidence to take our riding to the next level and tackle more difficult freeride trails like Valhalla and Viking that feature numerous jumps, step-ups and wooden features.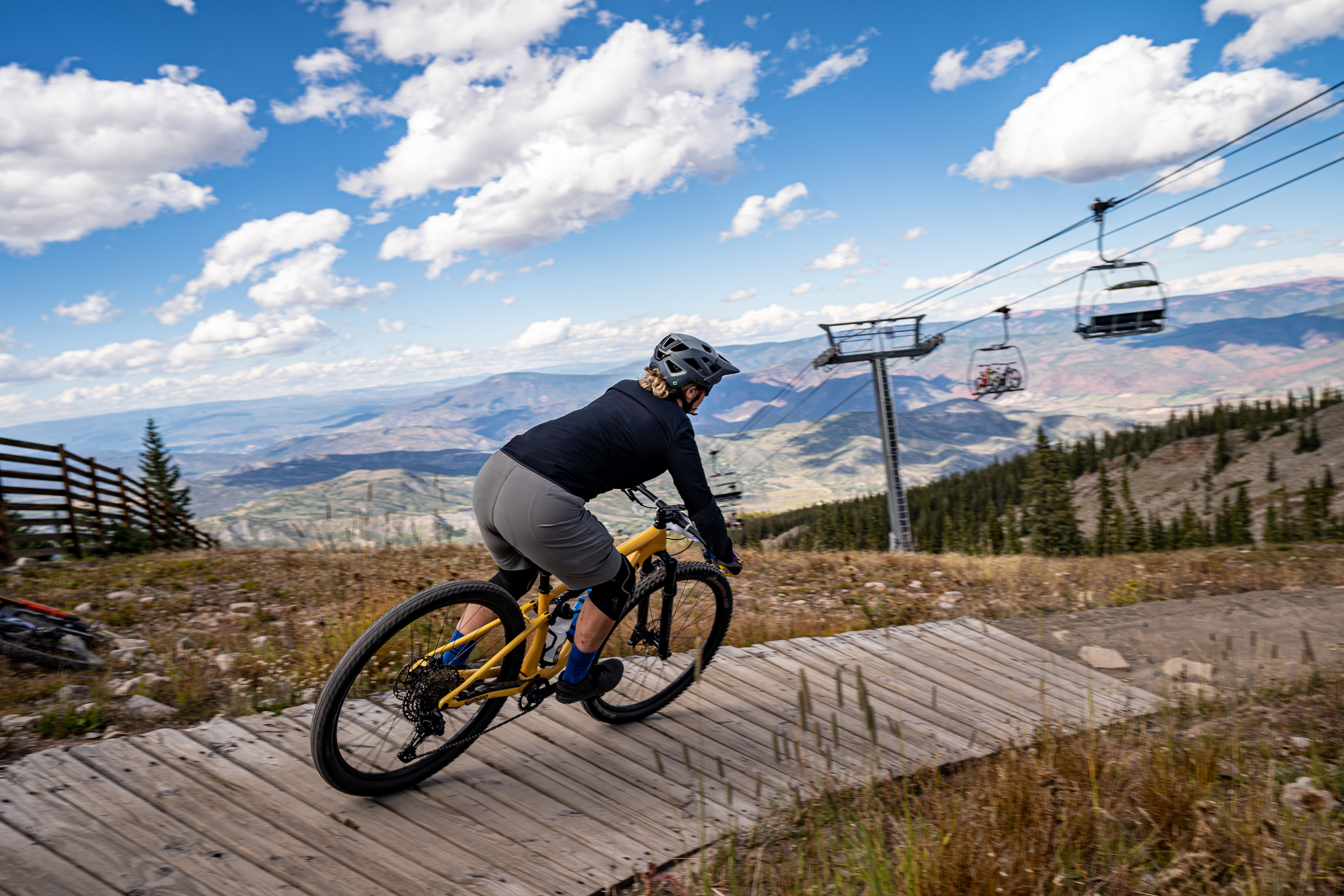 As Day Two came to an end, we tackled the last skill we were eager to learn. Jumping! Valkyrie is a grand hall of swooping berms and medium-sized jumps and served as a progressive scaled-down training ground to build confidence in the air. Liz and Kari selected a jump to session and with every pass the group started to jump a little further, eventually honing the skill and clearing the jump with a newfound confidence.
I left VIDA MTB with not only a newfound set of skills and certainty but a sense of community, belonging, and inspired more than ever to ride my bike!